Regular price
Sale price
$59.95 USD
Unit price
per
Sale
Sold out
Bio-Nutrition Laboratories
Steadfast Canine is the premium supplement for canine health. Keep your canine active and comfortable, no matter their age, with canine health products at Arenus. Shop now.
Optimal soft tissue and joint support, Steadfast Canine is a powerful, daily chewable tablet that reduces injury recovery times and helps keep aging dogs active and comfortable.

Is your dog suffering from arthritis? Stiff joints, pain, and inflammation? Hip dysplasia, bone, or soft tissue problems? Recovering from surgery or injury? Steadfast Canine is your answer for premium canine health.

It's difficult to see our beloved companions in pain. Steadfast Canine supports your dog's joints, bones, and soft tissue to make them comfortable and bring back the spring in their step.

There are many canine joint supplements on the market. It can be overwhelming to pick the right one for your dog. But Steadfast Canine isn't just another dog joint supplement. 

It's the only one available that contains the patented Natural Eggshell Membrane (NEM) and TelaFIRM combo. This provides unmatched soft tissue support for optimal joint health and accelerates healing for soft tissue injuries like cranial cruciate ligament (CCL) tears and more.

NEM naturally contains important joint health components that are synthetically manufactured by other brands. This means your dog can actually absorb the glucosamine, chondroitin, collagen, and hyaluronic acid so they can be used the way they were intended — to make your dog feel better. Most dogs see improvement in as little as 7-10 days with NEM [1].

TelaFIRM is a proprietary blend of organic, trace minerals. The chelated minerals are easily absorbed to improve bone, joint, and soft tissue health. Veterinarians trust our proven blend of ingredients to provide the most bioavailable source of structural support for aging patients, prevention, and healing.

Arenus is proud to offer Steadfast Canine as a complete structural support supplement for dogs of all sizes.

 

KEY BENEFITS

Fast relief:

 

Most owners see improvement in 7-10 days of using Steadfast Canine.
Tasty, chewable tabs:

 

Your dog will think it's a treat! Most dogs love the liver flavor of Steadfast Canine by itself. Or simply mix into their food for easy feeding.
All breed support:

 

Steadfast Canine comes in two sizes — small and large. The tablets can be easily tailored for dogs of all breeds and sizes.
Improved mobility:

 

Aging dogs suffer from conditions like arthritis and stressed joints that make movement difficult and painful. Total structural support for bone and soft tissues keeps your dog healthy and strong so they can live their golden years to the fullest. Reduced pain and inflammation keeps your dog comfortable. Acts as a preventative for dogs of all ages.
Rapid healing aid:

 

When dogs are injured or recovering from surgery they need optimal joint and structural support to accelerate the healing process. Dogs with CCL tears or ruptures, joint capsule issues, canine hip dysplasia, hip and knee problems benefit from soft tissue support during recovery and rehabilitation. Steadfast Canine gives your dog the right ingredients their body needs to heal quickly.

 

FEATURES

Our science-backed formula offers innovative structural support that's unmatched by any other joint supplement on the market. The patented formula provides bone, soft tissue, and joint support.

 

Natural Eggshell Membrane (NEM): 

 

NEM

 

is a naturally occurring powerhouse of joint support ingredients. These include glucosamine, chondroitin, collagen and hyaluronic acid. Many dog supplements synthetically produce these very same ingredients that are found in NEM. As an organic source of protein, dogs are able to easily absorb NEM for its structural support properties. NEM is also used in human orthopedic medicine and research studies have tested its use in the treatment of chronic pain associated with osteoarthritis. Patients in this study reported significant improvement in both pain and stiffness within 10 days [2].
TelaFIRM chelated minerals: 

 

TelaFIRM

 

provides your dog with the most bioavailable source of trace minerals like manganese, selenium, copper, and zinc. The proprietary, double chelated mineral blend provides unmatched soft tissue support. Chelated, or organic minerals, are protected from the stomach's acidic environment for maximum absorption. TelaFIRM is linked to clinical benefits such as increased bone breaking strength, decreased tendon, ligament and cartilage pathology, and decreased incidence of synovitis [3] [4]. Unchelated minerals in other supplements are overfed to make up for poor absorption rates. TelaFIRM does more with less by giving your dog quality minerals that their body can use.
Veterinarian approved:

 

Clinics all over the country rely on Steadfast Canine to deliver quick results to their patients in need of pain relief. Trusted to reduce pain and inflammation post-surgery for rapid healing.
Science-based, patented formula:

 

Steadfast Canine and its individual ingredients have been heavily researched and tested. Its sister product,

 

Steadfast Equine, has also proven successful with horses. You can trust that your dog is receiving the most scientifically advanced structural support available with Steadfast Canine.



Weighted Shipping Rates Do Apply
Share
View full details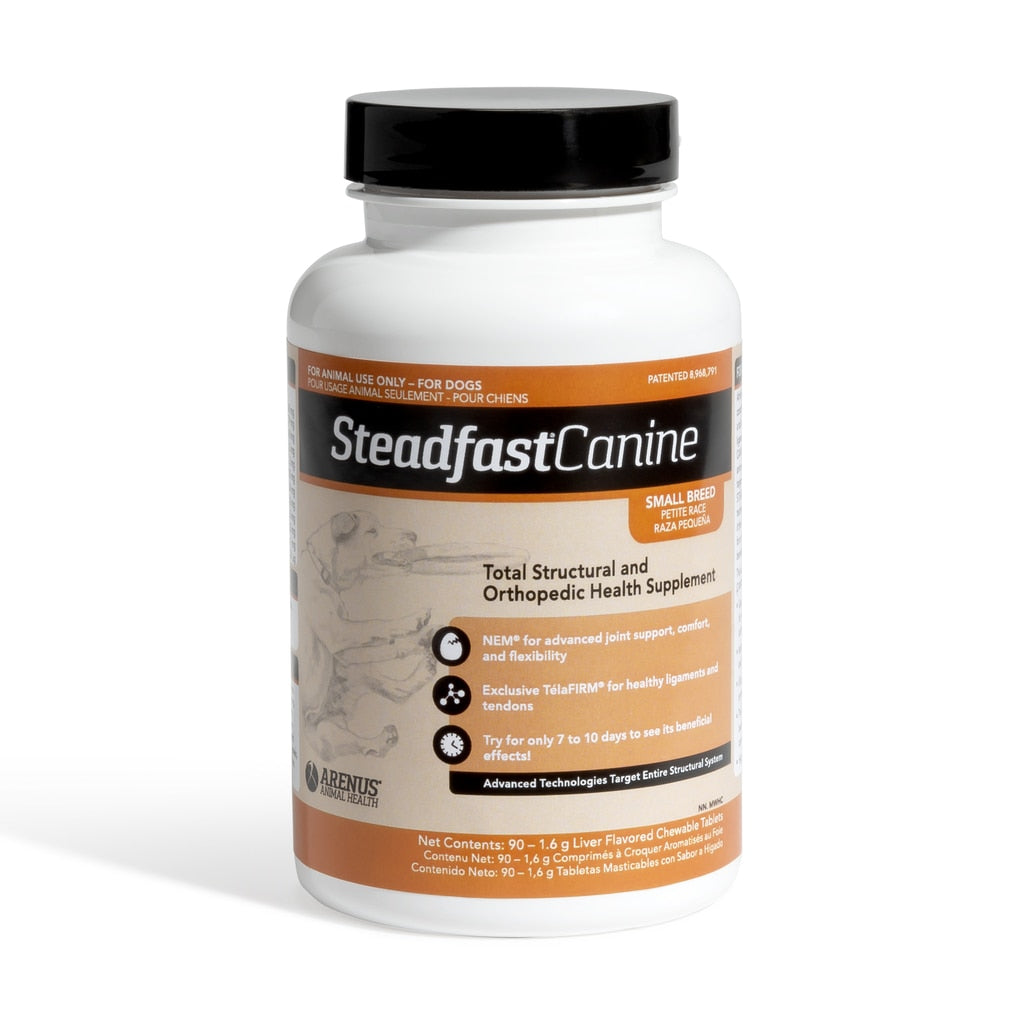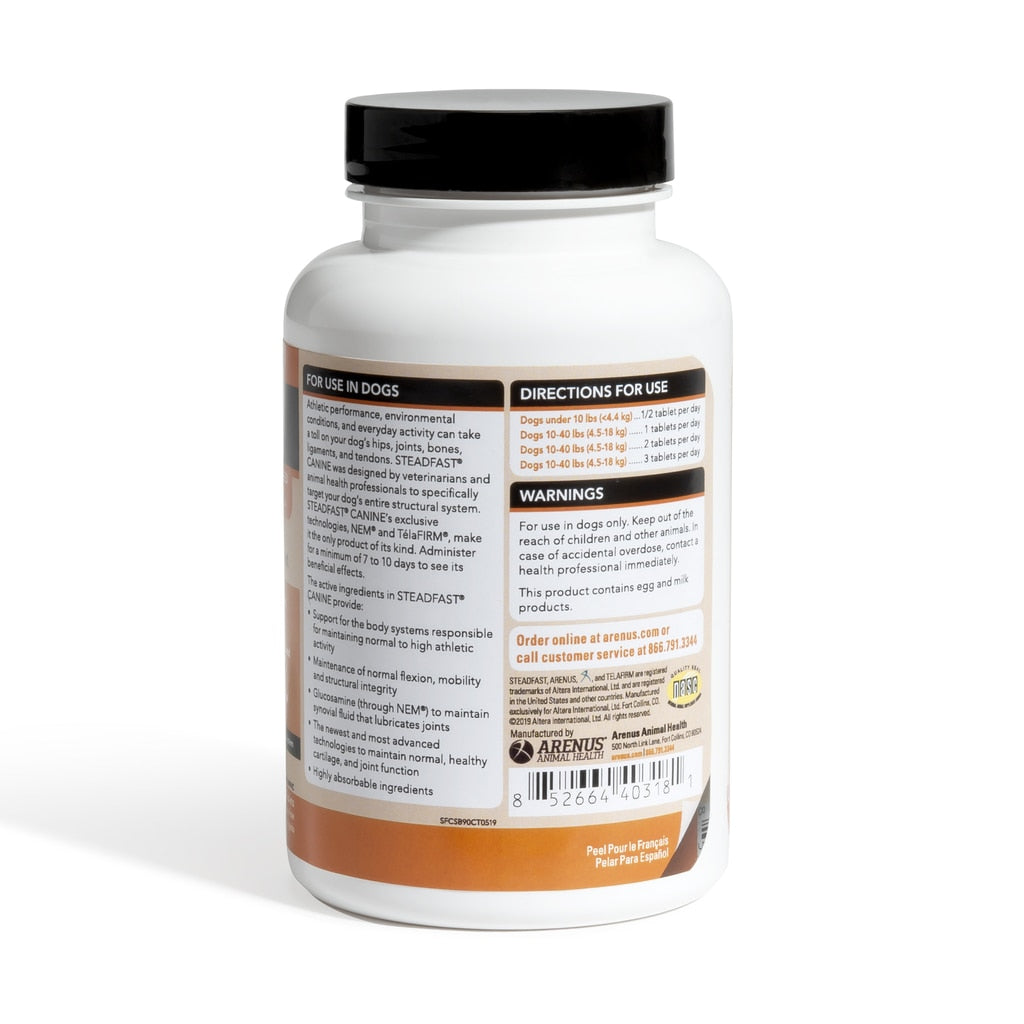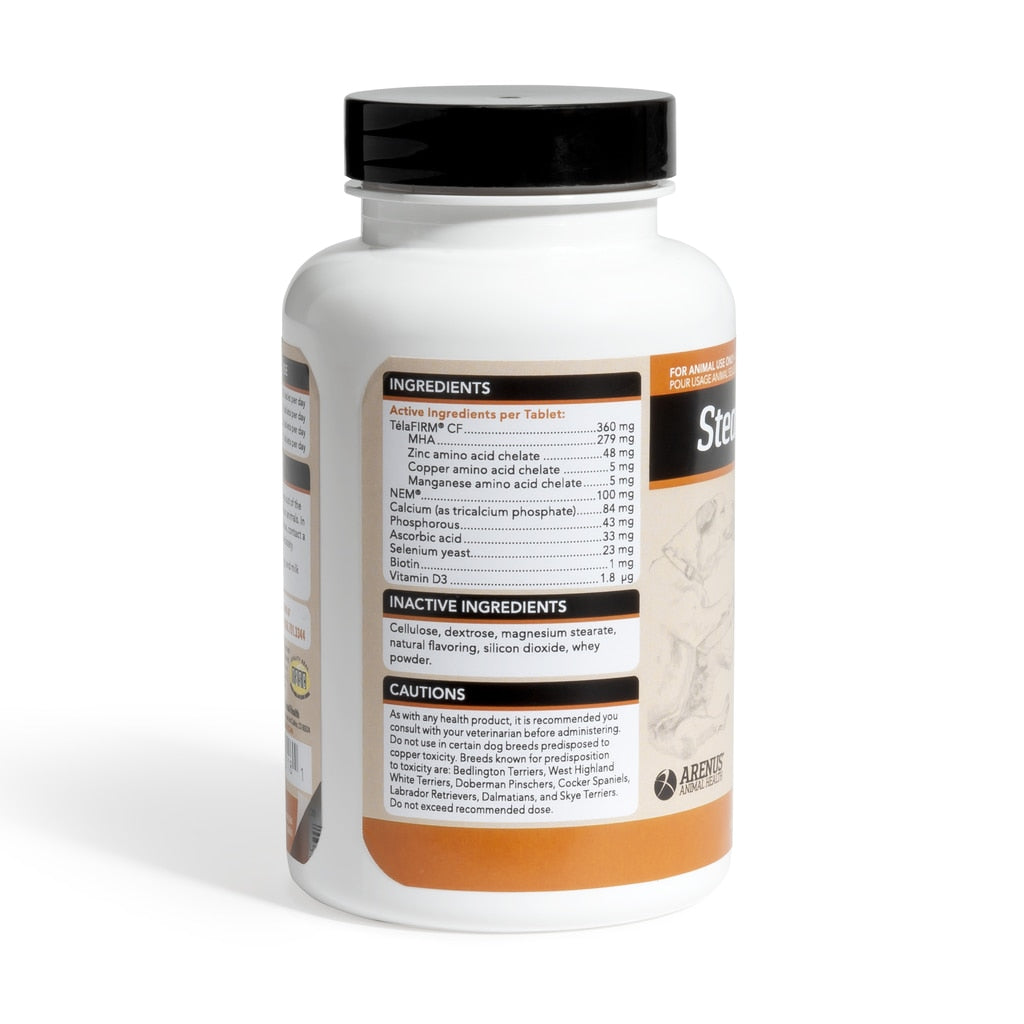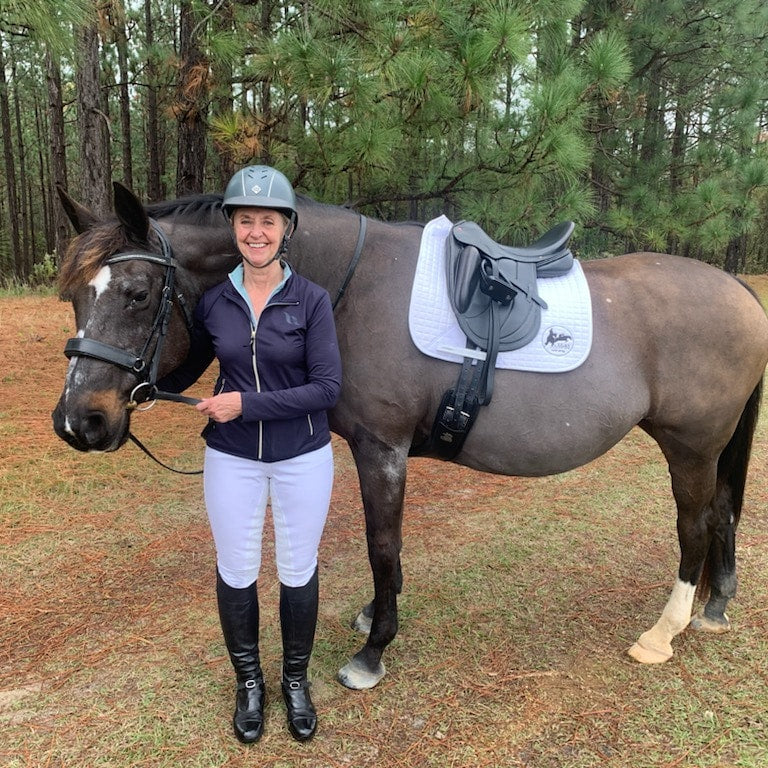 M & M Tack Shop, Serving Horses and Their People Since 1991
Our philosophy is to include an educational componenet to guide horse owners and riders of varying disciplines to make good choices in selecting tack, boots, helmets, equestrian clothing & horse health care. With the safety and heath of both horse and rider in mind, we also offer saddle, bridle and helmet fittings.