Regular price
$199.95 USD
Regular price
$199.95 USD
Sale price
$199.95 USD
Unit price
per
Sale
Sold out
Arenus Animal Health
More than a joint supplement for horses, Steadfast Equine offers complete structural support.
Is your horse suffering from aching joints and stiff, painful movement? Recovering from an injury? In training or competition? And are you overwhelmed by all of your options? You can stop searching now. Steadfast Equine is your answer.
Steadfast Equine is NOT your average horse joint supplement. Most joint supplements ignore bone and soft tissue health. This means your horse is only getting a small part of what they need to feel better or recover from injuries.
Our patented formula contains the exclusive combination of Natural Eggshell Membrane (NEM) and TêlaFIRM to support more than just the joint. NEM and TêlaFIRM provide your horse with the most bioavailable source of glucosamine, chondroitin, collagen, hyaluronic acid and chelated minerals. Bioavailable ingredients are easily absorbed instead of being passed through the system. This means your horse can actually use the ingredients for maximum structural health benefits.
The proprietary ingredients in Steadfast Equine and the finished product itself have gone through rigorous testing and research. NEM results are proven more effective and faster acting than using traditional chondroitin and glucosamine. Steadfast Equine has been shown to prevent and support horses with osteoarthritis and lameness by reducing pain, inflammation and cartilage degradation.
Steadfast Equine supports healthy joints in horses, soft tissue and bones for improved motion and reduced pain. There is no other joint supplement for horses with the same scientific backing and ingredients. Don't waste time and money on personal trial and error. Get your horse on the right track to feeling better with Steadfast Equine.
Arenus is proud to offer Steadfast Equine as an innovative soft tissue and joint supplement for complete structural support. 
KEY BENEFITS
Improved motion and flexibility:

 

Horses with stiff, painful movement need total structural support for relief and comfort. Steadfast Equine works fast to make your horse feel better for a longer stride length and more fluid motion.
Repair and prevention:

 

Horses on Steadfast Equine recover faster from soft tissue injuries. Increased bone density, tendon strength, ligament strength and healthier soft tissues help prevent injury. 
Active horse support:

 

The lifestyle of a performance horse is stressful on joints, soft tissue and bone. Preserve your horse's joint health to extend their career and keep them comfortable in training and competition. Also helps joint injections last longer.
Senior support:

 

Horses of all ages benefit from structural support maintenance. Arthritic and aging horses have additional stress on their joints that require support for optimal health. Steadfast Equine helps senior horses feel younger and more agile.
Pre-measured pouches:

 

Convenient, daily dose pouches come pre-measured for easy feeding and storage.
Total structural aid:

 

Complete structural support. No other equine joint supplement available offers the unique formulation and scientific backing of Steadfast Equine.
FEATURES
Our science-backed formula offers an innovative joint health solution that's incomparable to any other joint supplement on the market. Natural protein and chelated minerals provide unmatched soft tissue support.
Clinically proven formula:

 

Multiple studies have proved the effectiveness of Steadfast in its final form to reduce pain, inflammation and the degradation of cartilage.
Natural protein NEM: Natural Eggshell Membrane provides a naturally occurring matrix of joint and structural support components that are synthetically manufactured in other supplements. NEM is a natural protein source absorbed easier by horses for maximum structural support benefits. In a human study, NEM provided significant improvement to knee and hip osteoarthritis pain and stiffness within 10 days.
TêlaFIRM trace minerals: Proprietary, double chelated mineral blend

 

TelaFIRM

 

provides unmatched soft tissue support. Chelated, or organic minerals, are protected from the stomach's acidic environment for safe passage to the small intestine. This allows horses to better absorb the minerals for maximum benefits. TelaFIRM has been linked to profound clinical benefits such as increased bone breaking strength, decreased tendon, ligament and cartilage pathology and decreased incidence of synovitis. Unchelated minerals in other supplements are overfed to make up for poor absorption rates. TelaFIRM does more with less by giving your horse quality minerals that their body can use.
Weighted Shipping Rates Do Apply
Share
View full details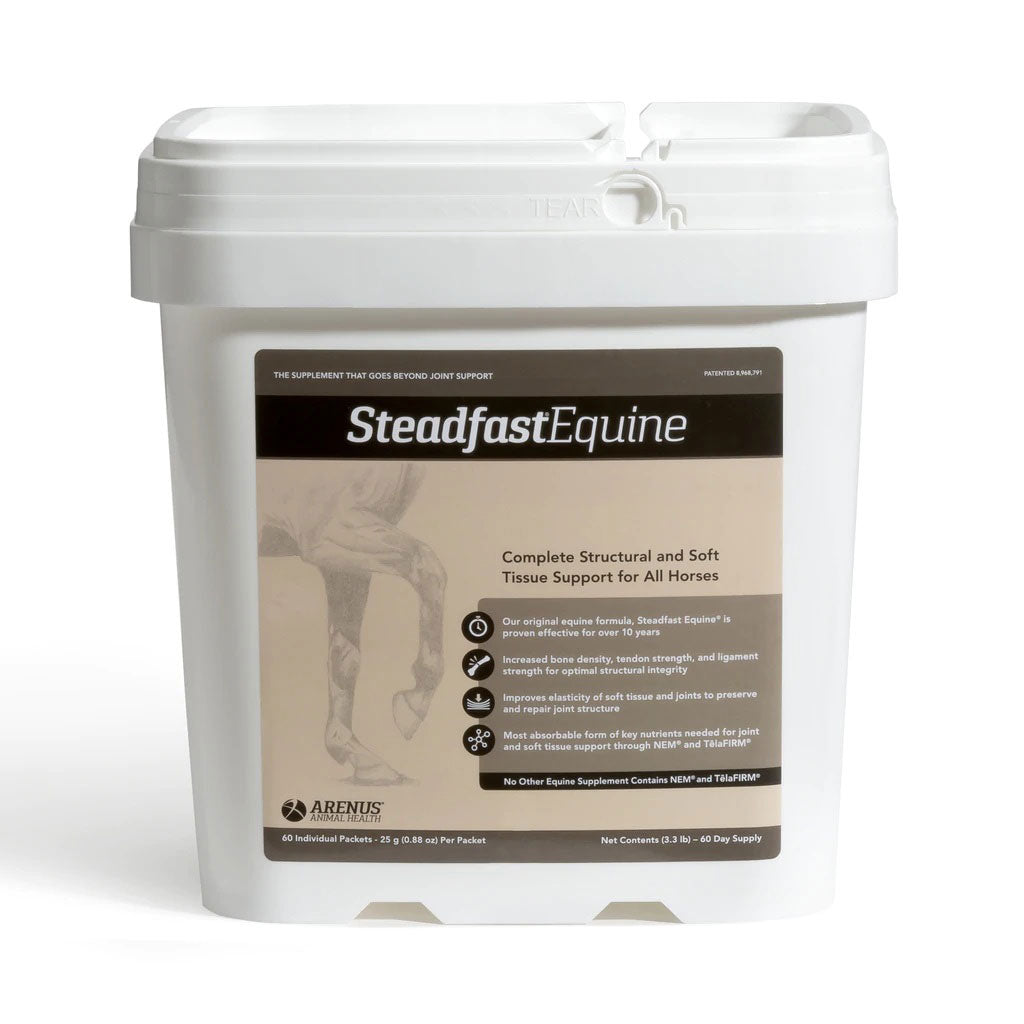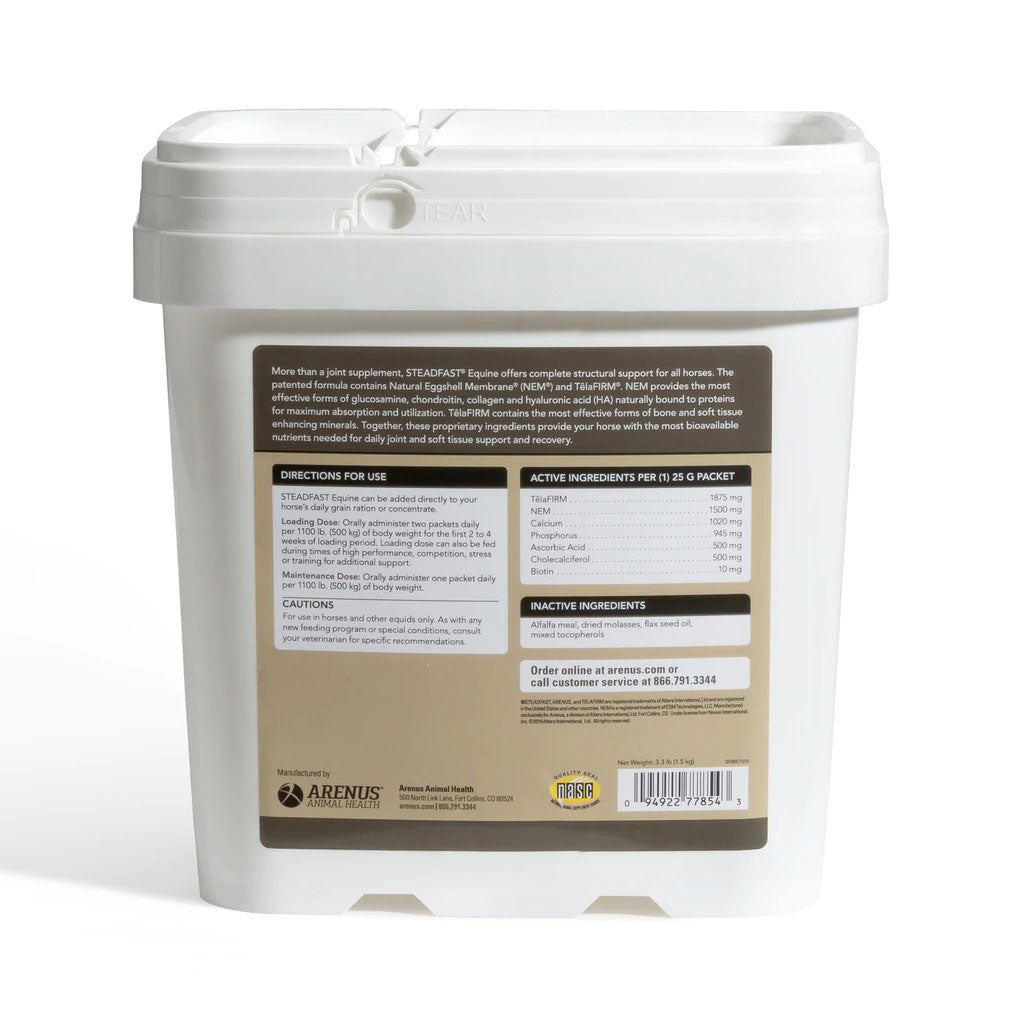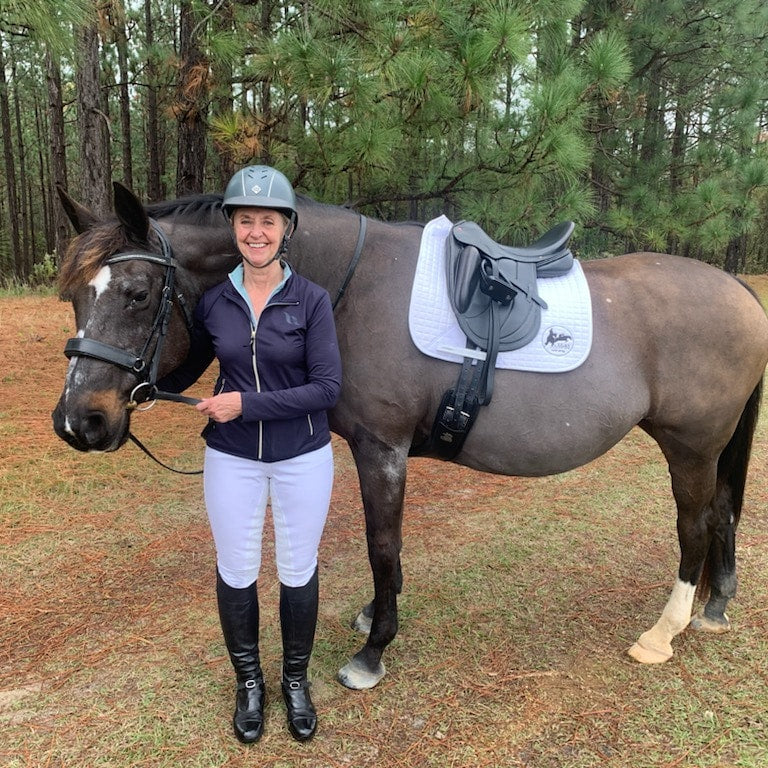 M & M Tack Shop, Serving Horses and Their People Since 1991
Our philosophy is to include an educational componenet to guide horse owners and riders of varying disciplines to make good choices in selecting tack, boots, helmets, equestrian clothing & horse health care. With the safety and heath of both horse and rider in mind, we also offer saddle, bridle and helmet fittings.