Regular price
$319.95 USD
Regular price
Sale price
$319.95 USD
Unit price
per
Sale
Sold out
Arenus Animal Health
Essential respiratory support, Aleira helps maintain optimal respiratory function in a daily, non-medicated supplement.
Does your horse suffer from chronic respiratory conditions? Difficulty breathing? Allergies, hives or dermatitis? Aleira's exclusive, research-backed formula is the solution for bleeders and horses with common respiratory issues. 
Omega-3 fatty acids effectively address immune and respiratory problems for your beloved horse. However, it takes the right, vegetarian source of Omega-3 fatty acids for your horse to see the full benefits.
Not all Omega-3s are created equal and not all contain DHA. Other Omega-3 supplements rely on fish oil or flaxseed as the Omega-3 fatty acid source. These supplements aren't easily absorbed or as beneficial as algae-based DHA. Aleira uses the same, safe algae-derived DHA used in infant formula for people.
Aleira is a unique blend of algal-DHA, antioxidant-rich mushrooms, vitamin C and MSM. This effective combo addresses inflammation and immune responses for horses with a range of respiratory issues.
Arenus is proud to offer Aleira as a true respiratory aid for horses with breathing problems.
KEY BENEFITS
Improved performance:

 

Addressing airway challenges keeps your horse comfortable and at the top of their game. Aleira offers effective support for bleeders and horses with respiratory or immune responses. Combats performance limiting conditions like Recurrent Airway Obstruction (RAO), Inflammatory Airway Disease (IAD), allergies, hives and dermatitis.
Non-medicinal alternative: Powerful respiratory support without the negative side effects of traditional treatments like steroids.

 

This formula is safe for horses that are sensitive to traditional medications. In many cases, horses using Aleira are able to reduce or eliminate their steroid use!
Safe to use: This equine respiratory supplement can be safely combined with conventional treatments for additional respiratory health support

 

while still being safe for long-term maintenance.
FEATURES
Aleira's research-proven and patent-pending formula offers a unique solution for a wide range of equine respiratory health issues. The ingredients work together to provide unmatched respiratory support.
The right DHA source:

 

Aleira uses a purified, concentrated source of Omega-3 algal-DHA. DHA is one of the most beneficial, natural Omega-3

 

fatty

 

acids and provides advanced respiratory support. Other Omega-3 supplements that use flaxseed don't contain beneficial DHA. They contain ALA that doesn't provide the same benefits. Omega-3 supplements using fish oil expose the horse to heavy metal toxicity. Horses are herbivores and can't use fish oil sources as efficiently as algae-based formulas. Because Aleira's DHA comes from purified vegetarian algae it can be easily absorbed for maximum results.
Proprietary Mushroom Matrix:

 

Exclusive trio of ground mushrooms provides strong antioxidant support, addresses respiratory inflammation and supports the pleural tissues.
Exclusive formula:

 

Aleira combines algal-DHA, their Mushroom Matrix, Vitamin C and MSM into a powerful

 

equine respiratory

 

supplement. Patent pending, this formula is unique and unmatched by any other supplement on the market.
Research proven:

 Aleira's

 research was conducted on horses supplemented with the exact doses of their product that they recommend for their customers. Studies proved that Aleira was effective in improving common airway conditions like RAO and IAD. Clinically shown to address performance limiting conditions like EIPH or bleeders with success.
Weighted Shipping Rates Do Apply
Share
View full details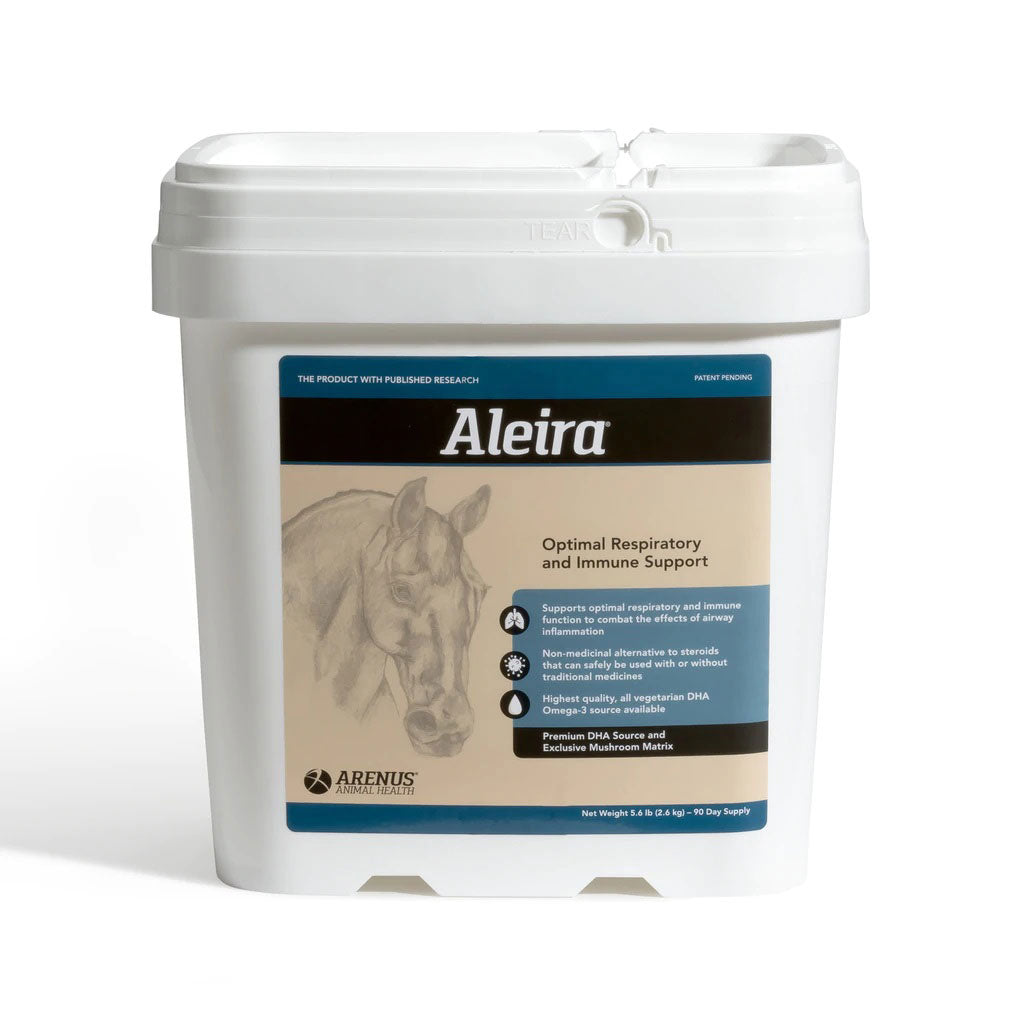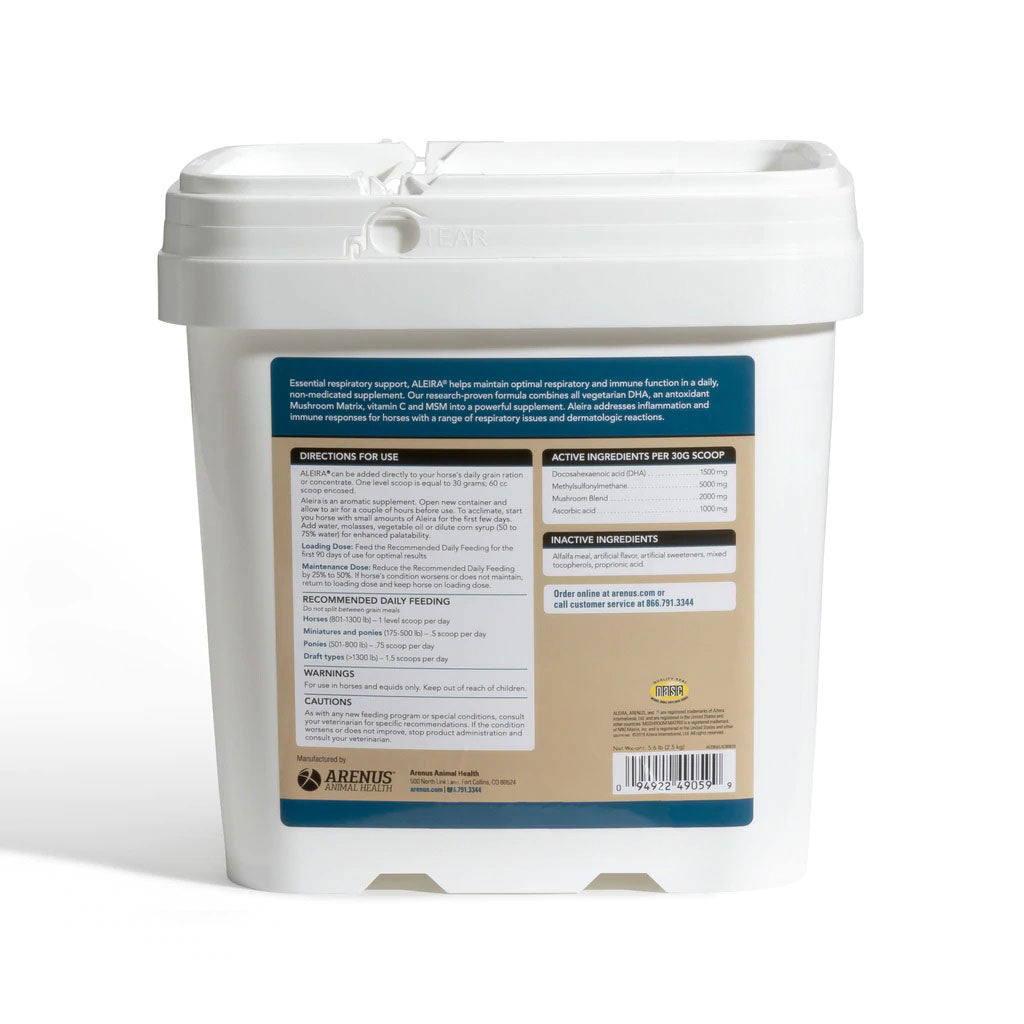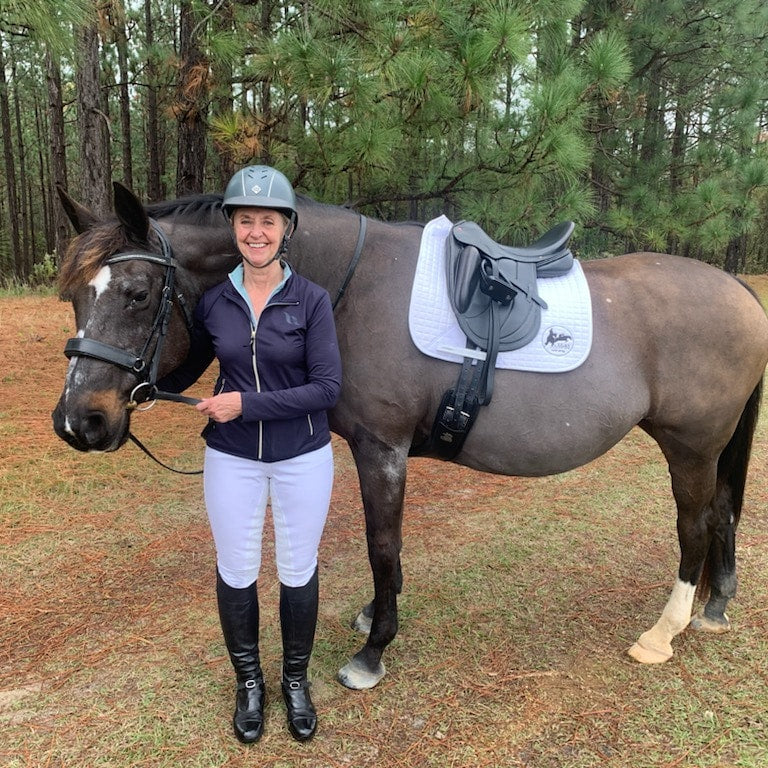 M & M Tack Shop, Serving Horses and Their People Since 1991
Our philosophy is to include an educational componenet to guide horse owners and riders of varying disciplines to make good choices in selecting tack, boots, helmets, equestrian clothing & horse health care. With the safety and heath of both horse and rider in mind, we also offer saddle, bridle and helmet fittings.