Regular price
$154.95 USD
Regular price
Sale price
$154.95 USD
Unit price
per
Sale
Sold out
Arenus Animal Health
Enhance equine digestive wellness with Assure. Efficient and reliable, Assure is Arenus' original and proven foundation to address common digestive health problems in a daily, granular supplement. 
Looking for a general digestive support supplement for your horse? Struggling with colic, loose stool, or poor body condition? Assure is the answer.
About 60-70 percent of a horse's immune function comes from digestive health. Assure provides a solid foundation for your horse's total digestive health needs in a daily supplement.
Assure combats the wide range of digestive health problems that horses face on a daily basis. It provides a daily dose of necessary prebiotics, probiotics, psyllium, digestive enzymes, and yeast for optimal hindgut health and function. Arenus digestive aids are the only products with Gastrointestinal Stabilizing Technology (GST). GST protects and provides safe passage for the live microbes through the acidic environment of the stomach. This ensures safe delivery to the hindgut for maximum health benefits.
Daily Assure is the answer for addressing chronic digestive problems or simply supporting equine digestive wellness. Combined with Assure Plus, it offers a flexible digestive health program that can be customized for your horse's specific health needs and lifestyle.
Arenus is proud to offer Assure as a solid foundation for your horse's digestive health needs.
CHOOSE THE RIGHT ASSURE OPTION FOR EQUINE DIGESTIVE WELLNESS
Assure can be fed as a standalone digestive maintenance supplement. We recommend using it in combination with Assure Plus for faster-acting, more effective hindgut health support.
The Assure and Assure Plus System is the right choice for:
Horses with a light work level or low stress that need a preventative digestive health aid.
Horses requiring sand clearance or support for minor to moderate digestive health issues.
Older horses with loose stool, diarrhea, or recurring digestive issues.
Owners that want a customizable, affordable solution to maintain their horse's digestive health and provide rapid hindgut stabilization as needed during times of stress.
KEY BENEFITS
Long-lasting digestive support:

 

Assure was designed by a vet to be used as a safe, long-term solution to your horse's digestive health maintenance.
Improved health and overall wellness:

 

Retired, pleasure, and performance horses alike benefit from daily digestive support and sand clearance to keep them happy and healthy.
Wide range protection:

 

Assure is designed to tackle a variety of digestive challenges including diarrhea, loose stool, recurrent colic, and more.
Whole digestive system support:

 

Assure works to support the entire digestive tract from the stomach through the hindgut.
Flexible, economic coverage:

 

Use Assure daily for cost-effective maintenance. Pair with Assure Plus during the loading period and one week out of each month for best results. Add Assure Plus during times of stress for maximum support when your horse needs it most.
FEATURES
Assure's patented formula offers a proven foundation for your horse's digestive health that's incomparable to any other digestive supplement on the market. The ingredients work to fortify the hindgut and provide consistent support for equine digestive wellness.
Proper digestive aid foundation:

 

Assure is our original digestive aid formula and the foundation of our Assure System products. It contains our custom blend of prebiotics, probiotics, psyllium, digestive enzymes, and yeast for optimal hindgut health and function.
Gastrointestinal Stabilizing Technology (GST):

 

Exclusive technology ensures that live microbes are protected from the acidic environment of the stomach for safe delivery to the hindgut.
Clinically proven formula:

 

The patented, vet approved and developed formula is proven to relieve colic, diarrhea, poor body condition, and more. Assure has been tested and verified as an essential piece of any horse's daily digestive health maintenance.
Butyrate:

 

Also known as butyric acid, butyrate is a critical volatile fatty acid (VFA) produced in the hindgut of all horses. The high quality, high purity psyllium in Assure has been shown to naturally and effectively increase the production of butyrate. Butyrate is critical to colonocyte health and regeneration, and important in the prevention and reduction of gastrointestinal inflammation.
Weighted Shipping Rates Do Apply
Share
View full details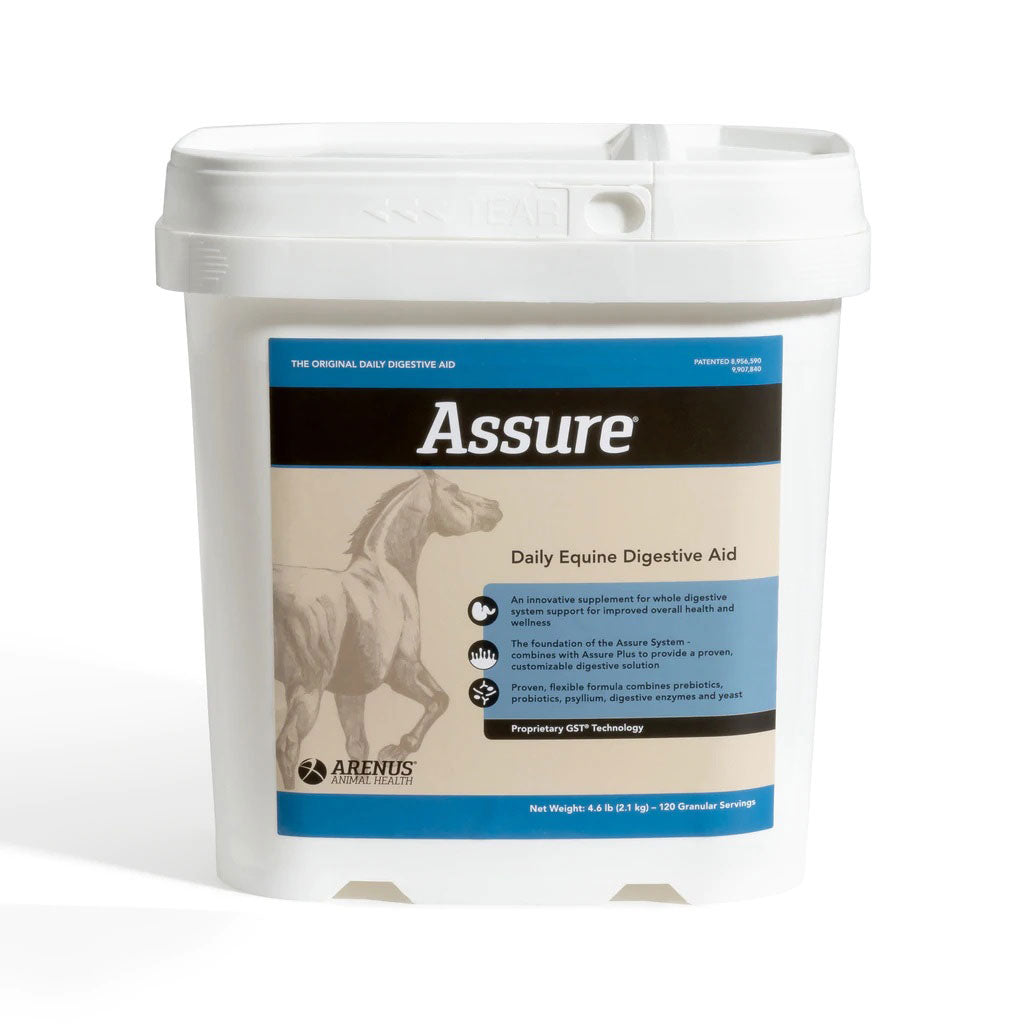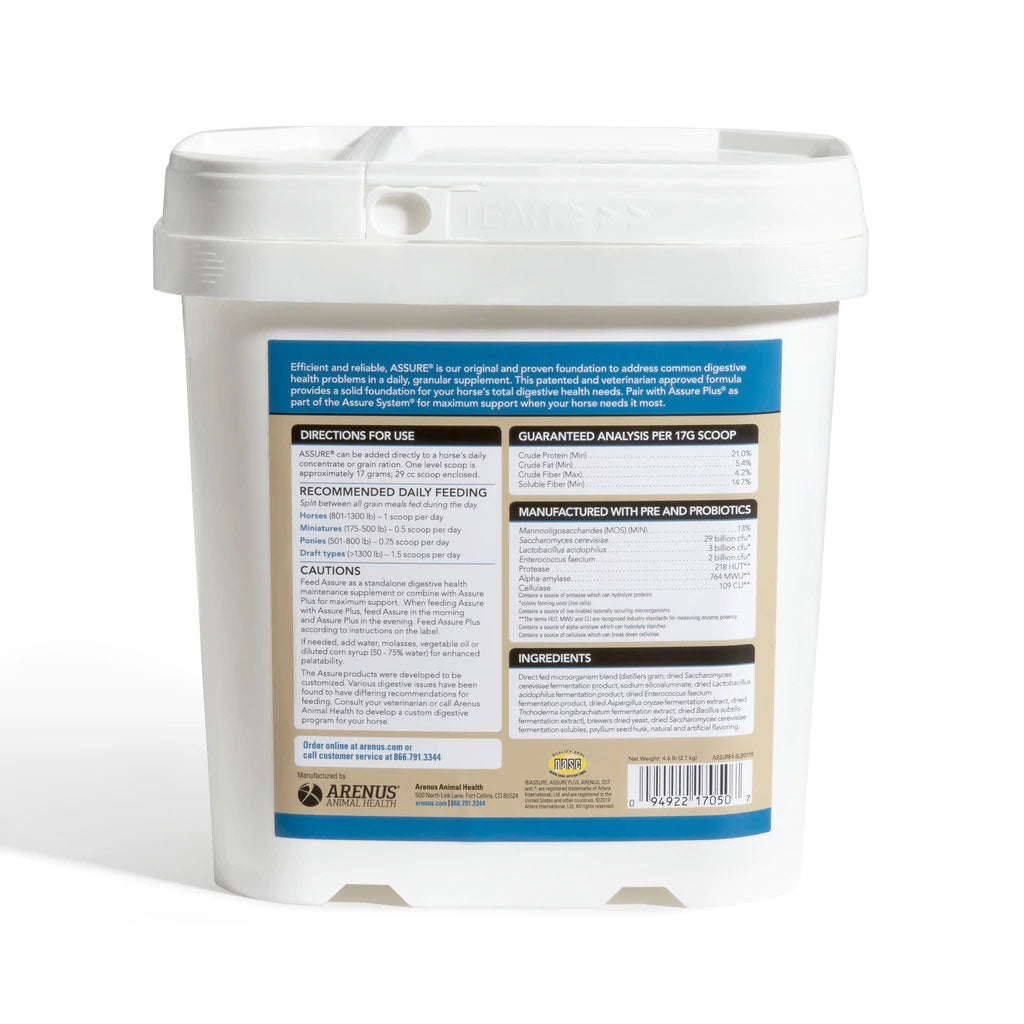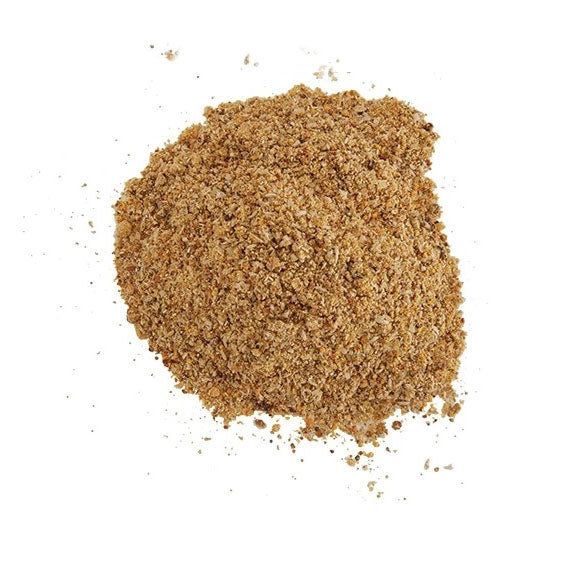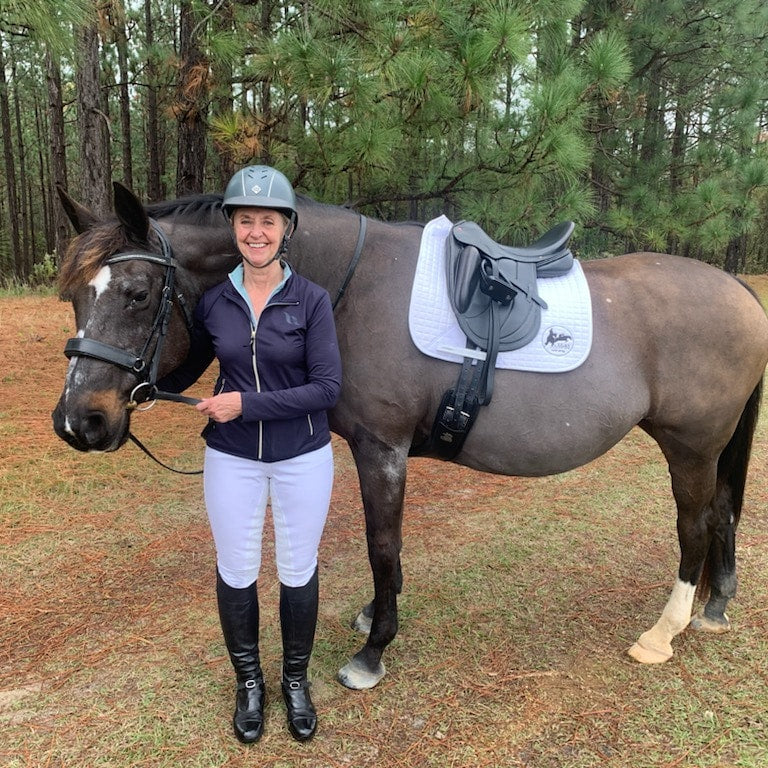 M & M Tack Shop, Serving Horses and Their People Since 1991
Our philosophy is to include an educational componenet to guide horse owners and riders of varying disciplines to make good choices in selecting tack, boots, helmets, equestrian clothing & horse health care. With the safety and heath of both horse and rider in mind, we also offer saddle, bridle and helmet fittings.