Regular price
$144.95 USD
Regular price
Sale price
$144.95 USD
Unit price
per
Sale
Sold out
Arenus Animal Health
Concentrated and dynamic, Assure Plus offers a custom solution to equine digestive health problems in an effective, pelleted psyllium supplement.
Does your horse suffer from chronic digestive issues? Poor performance and overall health? Sand accumulation? Assure Plus is the answer.
Anywhere from 60 to 70 percent of a horse's immune function comes from digestive health. High-grade psyllium combined with a routine maintenance program improves GI motility through conditioning for optimal digestive tract function.
(common) MYTH: All psyllium works the same - it pulls sand from the gut.
This is false! The truth is psyllium is a powerful ingredient that offers many benefits in addition to sand removal. But it takes the right kind of psyllium to get the job done.
Psyllium in its original, flake form has a strong water binding action that creates a soothing, gel-like consistency in the GI tract. This promotes optimal function, mucosal healing and has been proven to lower blood glucose and insulin concentrations, all of which benefit your horse. Good GI motility is necessary to help horses quickly evacuate large quantities of sand.
Most psyllium processing methods strip the psyllium of these benefits. Our unique pelleting process ensures our psyllium retains its ability to function exactly as it should for maximum health benefits.
Arenus is proud to offer Assure Plus as a concentrated psyllium boost for your horse's digestive health program.
CHOOSE THE RIGHT ASSURE OPTION FOR YOUR HORSE
Assure Plus is designed to be combined with one of our daily, Assure System products. We recommend using it in combination with Assure or Assure Guard for a powerful psyllium boost.
The Assure and Assure Plus System is the right choice for:
Horses with a light work level or low stress that need a preventative digestive health aid.
Horses requiring sand clearance or support for minor to moderate digestive health issues.
Older horses with loose stool, diarrhea or recurring digestive issues.
Owners that want a customizable, affordable solution to maintain their horse's digestive health and provide rapid hindgut stabilization as needed during times of stress.
The Assure Guard and Assure Plus System is the right choice for:
Horses with moderate to severe digestive issues such as recurrent gastric or colonic ulcers, colic, diarrhea, and sand accumulation.
Horses in training, competition or high-stress environments.
Horses undergoing or recovering from traditional ulcer treatments.
Older horses with severe diarrhea or constant digestive issues.
Owners that want a customizable solution designed to maintain digestive health and tackle tough gastric and hindgut challenges as needed.
KEY BENEFITS
Powerful digestive support:

 

Assure Plus boosts the effectiveness of routine digestive health programs. It delivers additional psyllium during times of heavy stress, exercise or digestive upset.
Enhanced wellness and performance:

 

Any digestive issue can disrupt your horse's performance and comfort. Having a happy digestive system improves overall health and helps your horse stay relaxed and focused.
Easy to feed:

 

One of the only equine psyllium digestive aids available in a pellet form. This allows for easy feeding and enhanced palatability.
Whole digestive support:

 

Assure Plus works with the Assure System to support the entire digestive tract from the stomach through the hindgut.
Customized for your horse:

 

Assure Plus can be paired with Assure or Assure Guard to create the right solution for your horse's digestive health needs.
FEATURES
Assure Plus' research-proven formula offers a unique delivery system that's incomparable to any other psyllium supplement on the market. The ingredients work to condition the GI tract for maximum digestive health support.
Psyllium based formula:

 

Assure Plus contains our custom blend of pre and probiotics, yeast and digestive enzymes with an extra boost of psyllium. This promotes optimal GI function, mucosal healing and has even been proven to lower blood glucose and insulin concentrations.
Proprietary psyllium process:

 

Psyllium keeps your horse's digestive tract conditioned and cleaned. Most psyllium products are highly-processed using an inferior, high-heat steam method. Arenus uses psyllium in its original, flake form and makes use of a proprietary pelleting process that protects probiotics from stomach acid.
Effective maintenance and control:

 

The trusted pairing of Assure Plus with a maintenance product in the Assure System addresses mild to severe digestive concerns while maintaining overall GI health.
Clinically proven system:

 

A field trial study evaluating horses with a variety of serious GI conditions revealed that 90% of recurrent colic cases, 100% of sand accumulation cases and 94% of weight loss or poor body condition cases were resolved using the combination of Assure Guard and Assure Plus.

Butyrate:

 

Butyric acid, also known as butyrate, is a critical volatile fatty acid (VFA) produced in the hindgut of all horses. The high quality, high purity psyllium in Assure Plus undergoes special processing to create concentrated, powerful pellets have shown to naturally and effectively increase the production of butyrate. Butyrate is critical to colonocyte health and regeneration, and important in the prevention and reduction of gastrointestinal inflammation.
Vet trusted supplement:

 

The patented Assure System is a standby tool for vets across the country fighting tough digestive health challenges.
Weighted Shipping Rates Do Apply
Share
View full details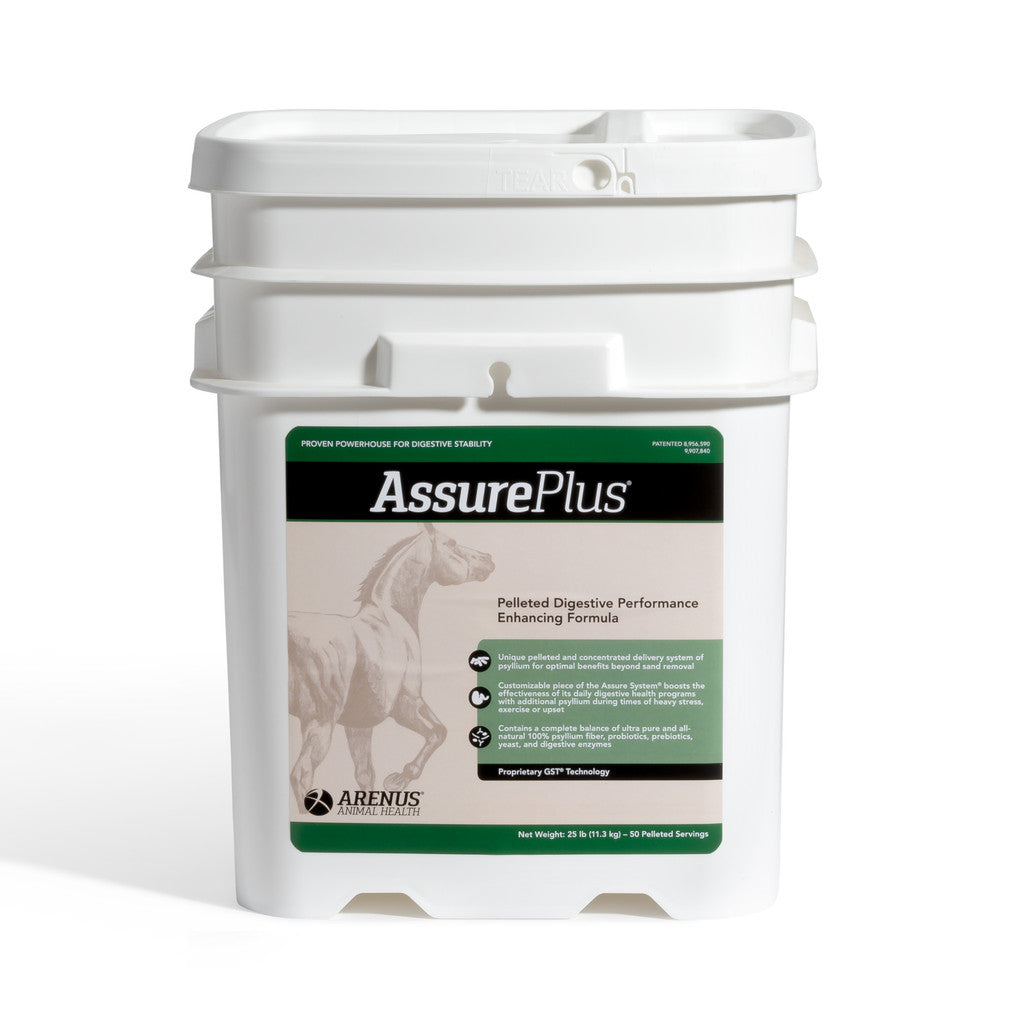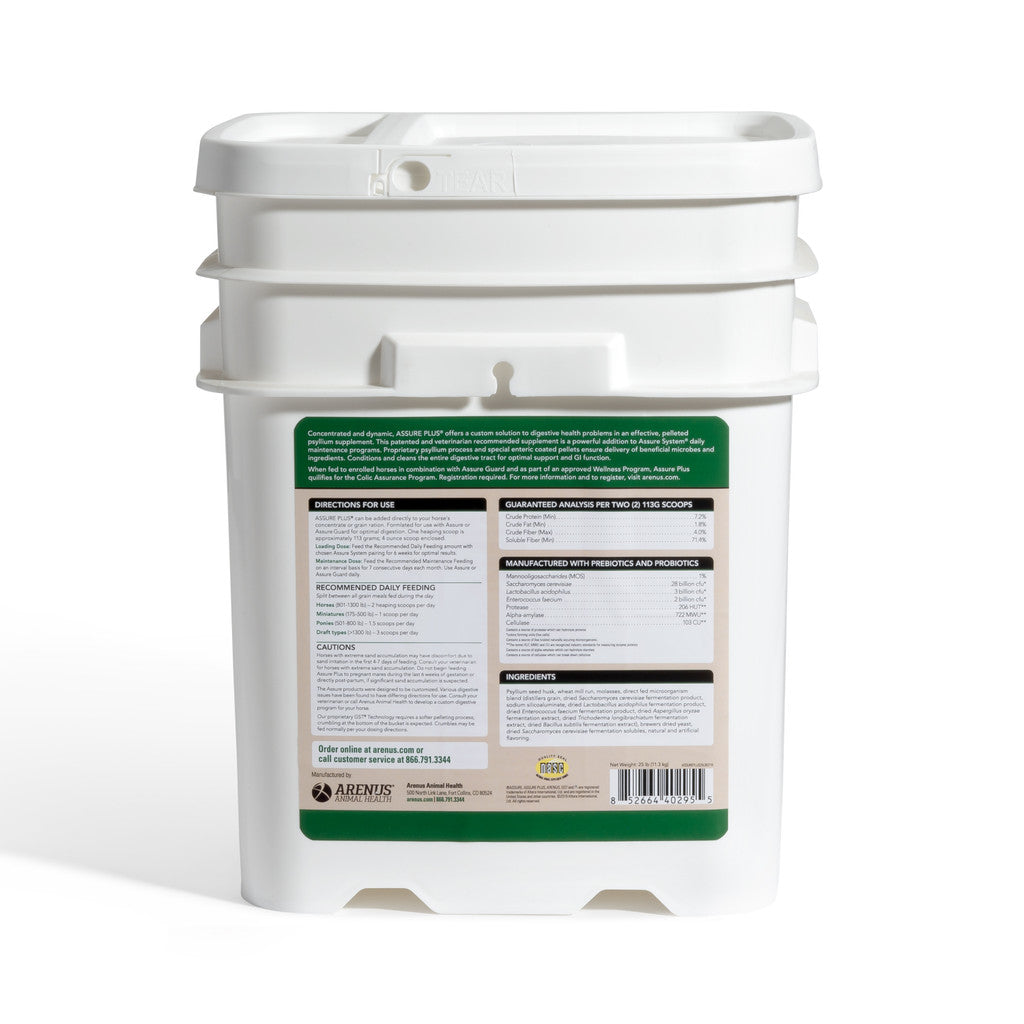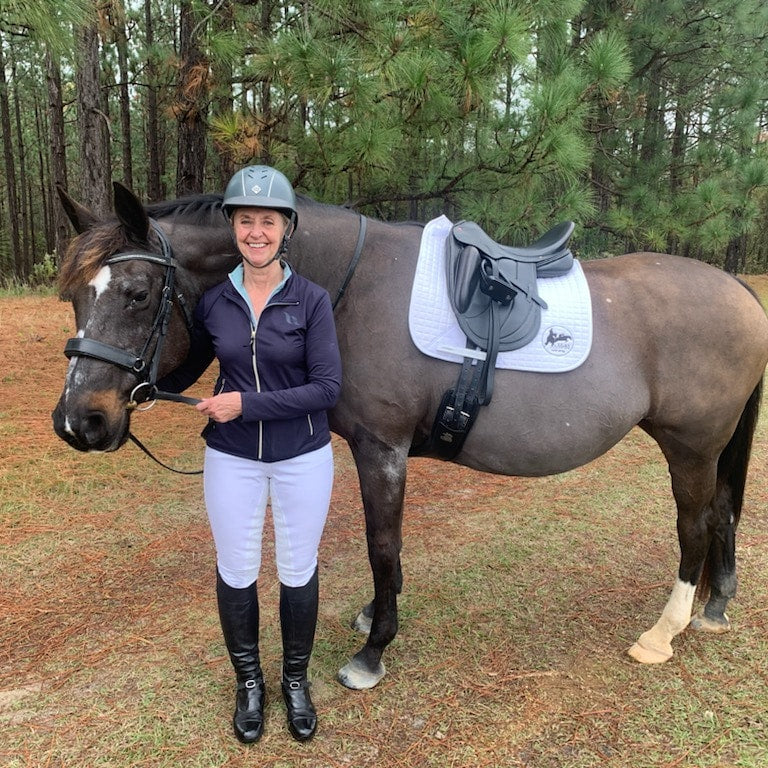 M & M Tack Shop, Serving Horses and Their People Since 1991
Our philosophy is to include an educational componenet to guide horse owners and riders of varying disciplines to make good choices in selecting tack, boots, helmets, equestrian clothing & horse health care. With the safety and heath of both horse and rider in mind, we also offer saddle, bridle and helmet fittings.